A tribute to Aiden Michael Fisher and Cathleen Jayne Fisher
DOB: August 1, 2001 (Aiden); September 13, 2003 (Cathleen)

(click a figure or caption for a larger picture)
---
April 29, 2006. Pictures from Mike's first game as manager (also, Aiden's first baseball game).
Click HERE to see the list of files to download and view on your computer.
February 3, 2005. And you wonder why I root for the Eagles? How cute is Cathleen here?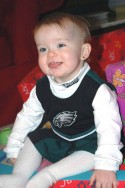 August 19, 2004. Another update! And this time, we're talking movies!
1. Mom the actress. AVI file. 2.6 MB.
2. Aiden and the deer. AVI file. 3.1 MB.
3. Cathleen and the wave. AVI file. 4.9 MB. (CAUTION: This is rated PG-13 due to my brother Mike.)
January 7, 2004 (Update, finally!)
March 3, 2002 Pictures (First swim)
Christmas 2001 pictures!
NEWEST picture! November 5, 2001. Correction: BEST PICTURE EVER.
NEW pictures!! October 18, 2001
---
September 11, 2001
pictures last edited: August 6, 2001
Aiden - "I REFUSE to smile for this picture"

Aiden and Mike's dad (1)


Aiden and Mike's mom (1)

("Is someone else ever going to get to hold me?")
---
Back to Dr. Frank Fisher's homepage.
Here is my CV in PDF format (version June 2017).
Publications and Presentations
Research group (Nanomechanics and Nanomaterials Laboratory at Stevens)
Click here to go to my teaching / engineering education web page.
Or maybe you would like to visit my personal web page? If so, click HERE
---
Last Updated: June 26, 2017
Dr. Frank Fisher
Associate Professor
Department of Mechanical Engineering
Stevens Institute of Technology
Castle Point on Hudson
Hoboken, NJ 07030
phone: 201-216-8913
emailID: ffisher